Turning Dreams into Plans Youth Conference
Apr 18, 2018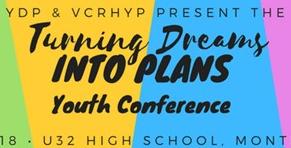 The Youth Development Program and VT Coalition of Runaway and Homeless Youth Programs invite you to attend and support youth to attend the 28th annual "Turning Dreams into Plans" youth conference! We are thrilled to be hosting this wonderful event again and we hope you can spread the word!
Click here to register for FREE!
When: Wednesday, April 18th
Where: U32 High School, Montpelier, VT
Who should attend?
The Turning Dreams into Plans youth conference is for young Vermonters, ages 15-25, who have experienced homelessness, been precariously housed, runaway, and/or been in the care of DCF. Any young person who is connected to any one of YDP or VCRHYP's partner agencies is welcome to attend! And of course we invite any adult supporters, friends, or family to accompany the young people in their lives to this event.
What's the day like?
We're excited to offer a day full of fun, interactive, and informational activities that will help attendees develop skills and make connections in many areas of their lives. This year our workshop and activities will fall into four different themes - Speak Out, Looking Ahead, Personal Wellbeing, and Just Wanna Have Fun. We're excited to be putting together presentations by inspiring speakers, and are making the Youth of the Year awards even better! It's a great day to learn about resources, meet new people, connect with old friends, and celebrate the amazing young people in our state.
Registration is free and includes lunch and a free t-shirt! Register now!
Want to nominate someone for Youth of the Year? This year we have a even have a special category for peer nominations! Click Here to make your nomination.
Want to present a workshop at the conference? We are accepting workshop proposals until March 2nd. Youth and young adult presenters are strongly encouraged! Click Here to submit a workshop idea.
If you have any questions about the event, please contact Anna Berg at aberg@wcysb.org or 802-229-9151.